Assisted death, with California's new laws coming into effect in a few short months, can be a very controversial topic amongst patients, physicians, and the general public. While these new laws raise many questions regarding morality and ethics, they also bring up a dilemma for physicians concerning the identification of the cause of death on the death certificate.
Before discussing the controversy of The End of Life Option Act it is important to know the necessary provisions. According to the law, in order to be eligible to request a prescription for the aid-in-dying drug one must:
– Be at least 18 years old with the capacity to make medical decisions as determined by a health professional.
– Be a resident of California.
– Have a diagnosed terminal illness from an attending and consulting physician that will result in death within six months.
– Request a prescription for an aid-in-dying drug without influence from others.
– Be able to self-administer the aid-in-dying drug.
When requesting a prescription of the aid-in-dying drug the patient must make two verbal requests and one written request within 15 days of each other to the attending physician. This request must be made solely by the patient and can not be done by a conservator, power of attorney, an advance healthcare directive, health care agent, or any other individual with legal authority of health care decision making.
For physicians especially, many may be faced with a moral and ethical dilemma when deciding whether to participate in the new law. They may be asking themselves:
Is it wrong to help one take their own life even if death is inevitable and around the corner? Should I be prolonging my patient's life even if they wish to end their battle?
Some physicians contest The End of Life Option Act due to the progression of symptom relief and comfort for terminally ill patients within hospice care. Physicians also have no obligation to participate in the act and will not be held liable if following the correct procedure. However, some health care providers view assisted death as a last act of care to help their patients end their lives on their own terms and in a peaceful manner.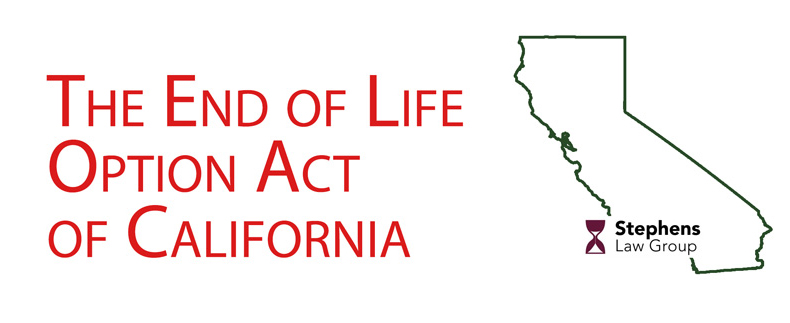 This idea of "rational suicide" is also becoming an emerging topic among the aging population. Some elderly people are claiming that rather than extending life and exposing themselves to the deteriorating effects of age, such as dementia, they would rather have the choice to autonomously end their lives. On the contrary, suicide prevention efforts believe that suicide should always be avoided whether stemmed from a mental illness or a clear-mind.
Aside from the social stigmas surrounding The End of Life Option Act, physicians are questioning the logistics associated with the law as well. Physicians are specifically unsure of how the cause of death should be written on the death certificate since taking the aid-in-dying drug "shall not constitute suicide," according to the law. Many health care professionals have suggested that the death be termed as "physician-assisted dying," "pursuant to The End of Life Options Act", or simply the patient's diagnosed terminal illness. However, the California Department of Public Health (CDPH) strongly suggests certifies to negate this second phrase and list the cause of death as the underlying terminal disease. This will allow researchers to still have consistent information concerning which diseases are leading to death. The language used in reference to the cause of death is very influential as the word suicide tends to carry a negative connotation and is not the basis of this Act.
By Rachel Kupfer, Legal Intern
Edited by Jack E. Stephens, J.D. LLM.
Stephens Law Group